The Franciscan Intellectual Tradition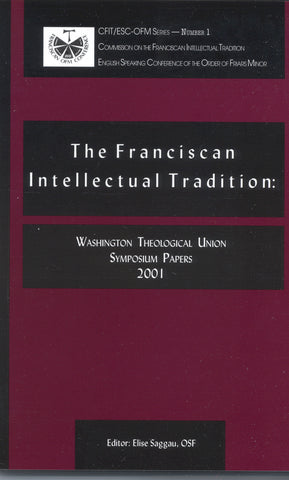 The Franciscan Intellectual Tradition
Description:
CFIT/WTU Series, Volume 1
Franciscan scholars of the 1950s and 1960s sparked a vibrant revival of first-rate Franciscan scholarship. For the past forty years, their progeny have worked long and hard and have further probed, developed, translated, and made available deeper riches of this ancient, yet fertile tradition. This exploring of the past in light of the contemporary has established a launching pad for what might well be described as a third generation of Franciscan studies. The scholarship in this volume represents an array of gifted North American thinkers who continue the important task of bringing historical knowledge, critical acumen and theological imagination to a dialogue of the past with our contemporary age.

In 2001, the English Speaking Conference of the orders of Friars Minor (ESC), in collaboration with Franciscan theological schools of the English-speaking world, committed itself to promoting the renewal of Franciscan theological and intellectual formation among the members of the Franciscan family. This promotion as a twofold purpose: to help members understand the beauty and wealth of the Franciscan intellectual tradition and to extend to the whole Franciscan family and to society the intellectual heritage of the Franciscan school so that it can support effective evangelization. This series of publications aims to carry forward this purpose. It is hoped that, with hope, joy and enthusiasm, Franciscans can once again look at their intellectual history, make it part of their lives, and prepare to become better proclaimers of the Word to the world.



Best Sellers