Franciscans and Creation: What is Our Responsibility?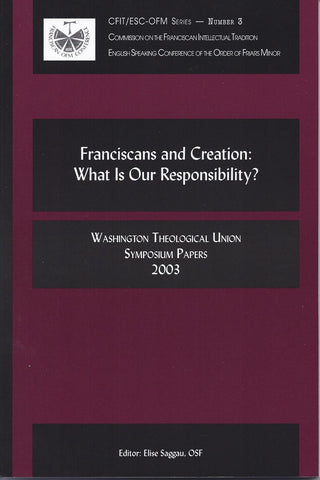 Franciscans and Creation: What is Our Responsibility?
Description:
CFIT/WTU Series, Volume 3
Creation is a vast and awesome mystery. From the furthest horizons of an ever-expanding universe to the organization of a single cell, every level of nature manifests intricate beauty. For Francis of Assisi, as for Bonaventure, created reality reveals God's overflowing goodness reflected in the order, beauty, and harmony of nature. In this third volume of Washington Theological Union papers sponsored by the Commission on the Franciscan Intellectual Tradition (CFIT), we hope to catalyze further discussion and exploration of creation as the sacrament of God. The insights of our Franciscan heritage have much to offer our planet, which is today in a perilous situation. Wee believe that this rich theological tradition can provide a framework for incorporating environmental sensitivity into contemporary religious practice.

In 2001, the English Speaking Conference of the Order of Friars Minor (ESC), in collaboration with Franciscan theological schools of the English-speaking world, committed itself to promoting the renewal of Franciscan theological and intellectual formation among the members of the Franciscan family. This promotion has a twofold purpose: to help members understand the beauty and wealth of the Franciscan intellectual tradition and to extend to the whole Franciscan family and to society the intellectual heritage of the Franciscan school so that it can support effective evangelization. This series of publications aims to carry forward this purpose. It is hoped that, with hope, joy and enthusiasm, Franciscans can once again look at their intellectual history, make it part of their lives and prepare to become better proclaimers of the Word to the world.



Best Sellers