Franciscans and Liturgical Life: Let Us Praise, Adore and Give Thanks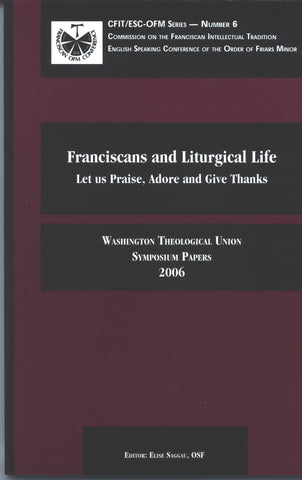 Franciscans and Liturgical Life: Let Us Praise, Adore and Give Thanks
Description:
CFIT/WTU Series, Volume 6
About two years before he died, Francis of Assisi composed his Canticle of the Creatures. Although he was very ill, blind, and near death, this light-filled hymn emerged from his inner depths as a song of praise and glory resounding throughout the whole creation. The Canticle, in a sense, recapitulated the life of Francis, a life of prayer,praise and adoration to the living God of overflowing love. His fidelity to the Liturgy of the Hours, his sacramental view of creation and his Christ-centeredness, all reflected in the Canticle, remind us that Francis's life was, at its core, a liturgical life.

As these papers on Franciscan liturgical life were presented at the Washington Theological Union Symposium in 2006, one could hear whispered among the participants: Are not our hearts burning wthin us? May the fire of the Spirit illuminating this volume of excellent scholarship ignite within its readers a creative spirit of prayer so that our lives may be lifted up in praise, adoration and thanksgiving to a God of generous love and great humility.



Best Sellers