Franciscan Evangelization: Striving to Preach the Gospel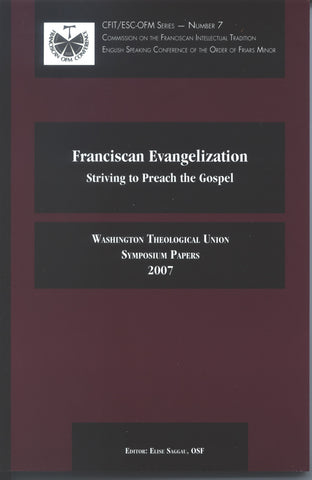 Franciscan Evangelization: Striving to Preach the Gospel
Description:
CFIT/WTU Series, Volume 7
The scholarly authors of the essays in this volume probe important facets of preaching and its history in the Franciscan tradition, as well as its import for the larger Church. Insightful and critical, they trace pathways into the future. From their historical perspective, we appreciate, perhaps for the first time, what a creative impulse to preaching Franciscan men and women brought to the service of the Gospel. We see how ordinary Christian people experienced the impulse to unfold the work of God in Christian life. We see, too, the intrinsic ambivalence of the Franciscan tradition in working out its relationship to the role of clerical preaching tin the hierarchical Church. We are invited to enjoy the feast prepared by scholarship and creative, critical thought.

In 2001, the English Speaking Conference of the orders of Friars Minor (ESC), in collaboration with Franciscan theological schools of the English-speaking world, committed itself to promoting the renewal of Franciscan theological and intellectual formation among the members of the Franciscan family. This promotion as a twofold purpose: to help members understand the beauty and wealth of the Franciscan intellectual tradition and to extend to the whole Franciscan family and to society the intellectual heritage of the Franciscan school so that it can support effective evangelization. This series of publications aims to carry forward this purpose. It is hoped that, with hope, joy and enthusiasm, Franciscans can once again look at their intellectual history, make it part of their lives, and prepare to become better proclaimers of the Word to the world.



Best Sellers