Poverty and Prosperity: Franciscans and the Use of Money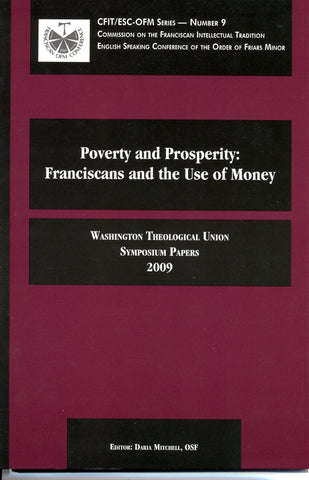 Poverty and Prosperity: Franciscans and the Use of Money
Description:
CFIT/WTU Series, Volume 9
The topic for this Symposium at Washington Theological Union in 2009 was chosen well in advance of the world economic crisis which developed in 2008-2009, but with that reality the theme was infused with additional significance. While plans to gather academics for a thought-provoking investigation into Franciscan traditions involving poverty continued, their presentations were balanced with insights from activists to bring the past into dialogue with the present in order to help us understand how we might think about our resources.

As the papers in this volume demonstrate, Franciscan poverty has and continues to develop and to elicit new forms in the life of the Church. This 2009 Symposium has raised many important questions and possibilities as to how Franciscans can and should use money that will be valuable for the Franciscan family to consider. Even so, the issues relating to prosperity still need further consideration. When one studies the history of the divisions of the Franciscan communities, it seems that they arise out of prosperity rather than poverty. How Franciscans respond to prosperity seems to play a significant role in how Franciscans respond to each other.



Best Sellers