Rule of the Friars Minor 1209-2009: Historical Perspectives, Lived Rea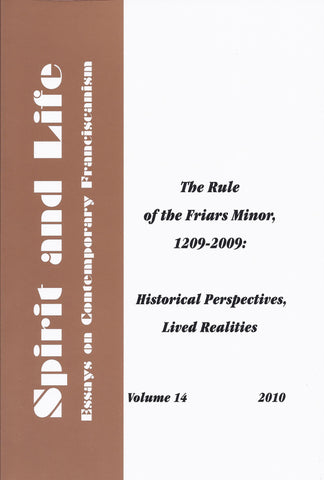 Rule of the Friars Minor 1209-2009: Historical Perspectives, Lived Realities
Description:
Spirit and Life Series, Volume 14
In April of 2009 a unique conference was held at The Franciscan Institute, St. Bonaventure University, to celebrate the 800th anniversary of the founding of the Order of Friars Minor through the confirmation of the propositum vitae of the early friars by Pope Innocent III on April 16, 1209. The conference brought together for a brief but intense period of time two groups of people who do not often dialogue with each other: scholars of the Rule and the practitioners of the Rule - those who study the Rule in an academic manner and those given the responsibility by their provinces of teaching and modeling the practice of the Rule in daily life.

Six scholarly essays and nine interventions are offered in this book by friars from nine different areas of the world. Contributors include: Michael W. Blastic, Joseph P. Chinnici, Michael Cusato, David Flood, Jean Francois Godet-Calogeras, Dominic Monti, William J. Short, Vincent Furtado, Musie Ghebreghiorghis, Hugo Mejia, Benedikt Mertens, Baltazar Obico, Ralph Parthie, Matthew Beckmann, Pero Vrebac and Philippe Yates.
Other fine products
Best Sellers