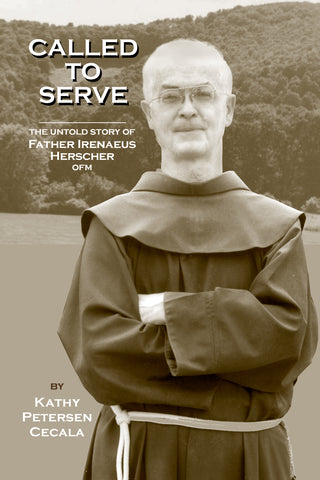 Called To Serve
Description:
The Untold Story of Father Irenaeus Herscher, OFM
by Kathy Peterson Cecala
In his classic and best-selling memoir of spiritual epiphany, The Seven Storey Mountain, Thomas Merton tells of a delightful and friendly Franciscan friar who freely lends him books and discusses matters of the spirit with him. This biography tells the full story of that man, Father Irenaeus Herscher OFM, describing not only his friendship with Merton and the poet Robert Lax, but also his own American-immigrant narrative: his early years as a young shipyard worker, his unlikely call to the Franciscan order and eventual career as academic librarian and historian. Against a backdrop of great 20th century events and cultural changes, Father Irenaeus managed to touch many lives. As 'pastor' of his library, he encountered US presidents, cardinals, bishops, famed writers and journalists, famous athletes, film stars and other cultural icons—as well as housewives, grade-schoolers, local businessmen and hospital patients he ministered to as chaplain. But perhaps his biggest influence was on the thousands of students, scholars and researchers he worked so hard to serve and help, following his own guiding spiritual principle: Do your best, let God do the rest. His legacy lives on through his beloved library at Saint Bonaventure University.

For more information, visit www.kpcecala.net

Kathy Petersen Cecala, a graduate of Saint Bonaventure University, is a veteran of the New York City publishing industry, has taught English and is the author of several novels. She is active in the International Thomas Merton Society (ITMS), and has written for their NYC chapter website, the Merton Seasonal and Episcopal New York.
(2018) Pb 978-1-57659-427-8
*ebook available through online vendors 978-1-57659-428-5
Best Sellers