The Four Conversions: A Spirituality of Transformation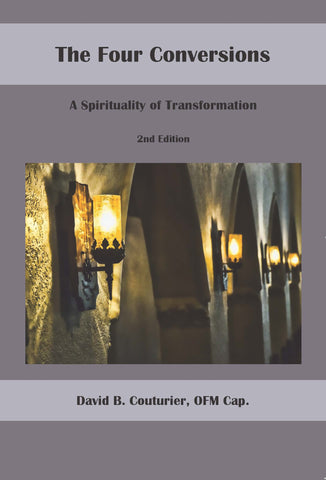 The Four Conversions: A Spirituality of Transformation
Description:
By David B. Couturier, OFM Cap.
For far too many Christians, conversion is reduced to just a personal change of mind and heart. This leaves our relationships and institutions out of the Gospel call to holiness. This book proposes metanoia as four mutually enriching phases of conversion- personal, interpersonal, ecclesial and structural. The Four Conversions demonstrates the theological and psychological connections between personal change and family development, congregational renewal and social transformation, integrating the latest insights from Trinitarian theology, family systems theory, clinical psychology and organizational studies, this work will give readers a deeper appreciation for the Church's tradition of faith development.

Engaging, illuminating and sobering, Couturier's four-dimensional approach to understanding Christian conversion is a compelling and constructive response to the contemporary disciples' question, "What must we do?"
-  Margaret Eletta Guider, OSF
Associate Professor of Missiology
Boston College School of Theology and Ministry
David B. Couturier, OFM. Cap., PhD, DMin, is Dean of the School of Franciscan Studies at St. Bonaventure University and Executive Director of the Franciscan Institute. He is a graduate of the Institute of Psychology at the Gregorian University, the Graduate Theological Foundation and the William Alanson White Institute for Psychoanalysis' Organizational Development Program.
Pb 2016      978-1-57659-407-0
*ebook available through online vendors 978-1-57659-408-7
Best Sellers