Luke Wadding's Art: Irish Franciscan Patronage in Seventeenth Century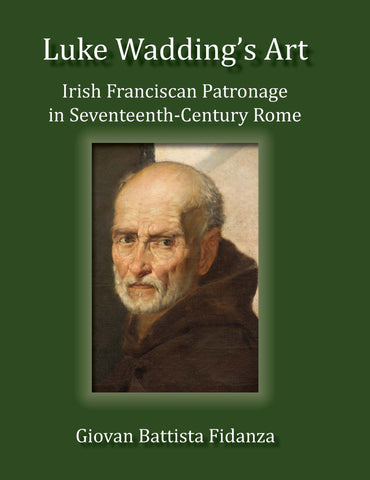 Luke Wadding's Art: Irish Franciscan Patronage in Seventeenth Century Rome
Description:
by Giovan Battista Fidanza
The Irish Franciscan friar, Luke Wadding (Waterford, 1588 - Rome,1657), was a very significant figure for his time. Aged fifteen, he left Ireland for Portugal never to return. In 1618 he moved to Rome as part of a Spanish diplomatic mission to ask the Holy See to recognize the dogma of the Immaculate Conception, remaining there for the rest of his life.
Primarily, Wadding is famous for his highly important contribution to Franciscan history, having written the first eight volumes of Annales Minorum, the great work devoted to the history of the three Franciscan orders. As an accomplished theologian, he also played a prominent role in the ecclesiastical politics of Rome in the 1600s.
This book deals with Wadding's artistic involvement in commissioning works of art and architecture, chiefly for 'his' Church of St. Isidore in Rome; his portraits – both painted and engraved – are also investigated. By choosing such important artists as Andrea Sacchi and Carlo Maratti, he was showcasing the Church of St. Isidore as a significant example of art and architecture in seventeenth-century Rome. Most of this research has been carried out from unpublished documents kept in Roman archives.
Giovan Battista Fidanza was born in Perugia (Italy) in 1967. He was awarded a PhD in Art History from the University of Perugia. Since 2006 he has held the position of Associate Professor of Art History at the University of Rome Tor Vergata. His topics of research concern the history and technology of art materials, with particular reference to wooden statues and furniture of the Early Modern Age. He has also studied seventeenth and eighteenth century painting in the Papal States, discovering many unpublished facts during his archival research. His essays have been published in many prestigious journals, such as The Burlington Magazine, Wiener Jahrbuch für Kunstgeschichte, Bollettino d'Arte and Rivista d'Arte. He currently lives near Rome with his wife and son.
HC 2016 978-1-57659-401-8
Best Sellers