Enduring Presence: Diversity and Authenticity Among the First Generati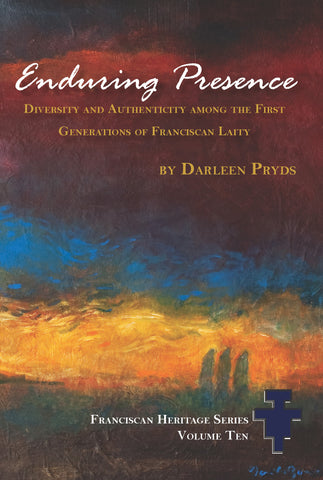 Enduring Presence: Diversity and Authenticity Among the First Generations of Franciscan Laity
Description:
Franciscan Heritage Series, Volume 10
Written as a companion volume to Women of the Streets: Early Franciscan Women and their Mendicant Vocation (Franciscan Institute Publications, 2010), Enduring Presence offers more gritty stories of the faith journeys of lay men and lay women who helped create the Franciscan charism in the first generations of the Franciscan movement. Their unique contributions as "somatic theologians" or people who contributed to the Franciscan intellectual tradition by how they lived out the theology and spirituality are mapped out here in this volume and include work, marriage, hospitality, and service as spiritual practice.

ABOUT THE FRANCISCAN HERITAGE SERIES
This is the tenth in a series intended to encompass topics which will connect the Franciscan Intellectual Tradition with today's language of our Christian Catholic Franciscan way of Gospel Life. Previous volumes have presented an overview of the tradition, discussed dimensions of creation and Christian anthropology in Franciscan theology, and illustrated them through an iconographic tradition found in the Gospel of John. It is our hope that Enduring Presence: Diversity and Authenticity Among the First Generations of Franiscan Laity– just as the sermons, commentaries, and treatises of Bonaventure, Scotus, or Ockham – will add to our understanding of the Franciscan intellectual tradition because these stories reveal how creation is a sacrament of God's loving presence and the first book of revelation.

ABOUT THE AUTHOR
Darleen Pryds, Ph.D., is Associate Professor of Christian Spirituality and History at the Franciscan School of Theology. Her research focuses on lay men and lay women in the Franciscan tradition. She also has a special interest in the spirituality of dying and death. She has written several articles and filmed two programs with Now You Know Media. This is her third book dealing with lay Franciscans. You can find many of her articles and a listing of her publications on Academia.edu.
(2018) PB 978-1-57659-431-5
*ebook available through online vendors 978-1-57659-432-2
Best Sellers