The Saints of St. Peter's Square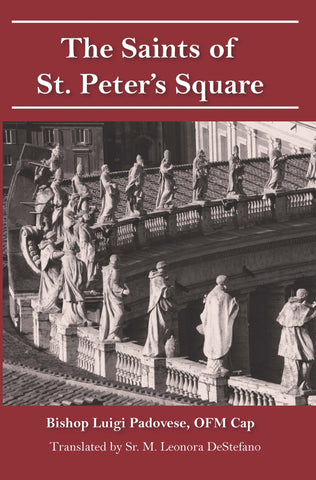 The Saints of St. Peter's Square
Description:
By Bishop Luigi Padovese, OFM Cap.
translated by Sr. M. Leonora DeStefano
"This edition of Bishop Padovese's "Piccoli dialoghi fra santi di marmo" provides the Church an important resource for spiritual development. In the midst of time spent in Rome for meetings of Pope Francis' Council of Cardinals, I occasionally have the opportunity to walk through St. Peter's Square. At those times I consider the depth and  readth of the contributions to the life of the Church made by the saints whose images stand guard over the square, each day overseeing all who come and go in the midst of the life of the Church. Though Bishop Padovese's image is not above the Colonnade, we can consider him as among the most powerful witnesses in light of his lifelong commitment to the work of the Church and having made the ultimate sacrifice in that service."
- Cardinal Sean O'Malley, Archbishop of Boston
Bishop Luigi Padovese, OFM Cap (March 31, 1947 - June 3, 2010) was the titular bishop of Monteverde and the Vicar Apostolic of Anatolia in Turkey. Bishop Padovese made his simple vows in the Order of Friars Minor Capuchin in 1965 and his solemn vows in 1968. He was ordained a priest in 1973. He studied at the Pontifical Antonianum University and Pontifical Gregorian University in Rome. After his doctoral studies, he became a Professor of Patristics at the Pontifical Antonianum University, and for sixteen years he directed the Franciscan Institute of Spirituality at the same university. He also held chairs at the Pontifical Gregorian University and Pontifical Alphonsianum Academy and taught at various seminaries. He was appointed Apostolic Vicar of Anatolia on October 11 2004 and consecrated a bishop on November 7, 2004. He was also the resident of Caritas Turkey. On June 3, 2010, Bishop Padovese was fatally stabbed in his summer residence by his driver of four years.
2016 ISBN 978-1-57659-396-7
Best Sellers