Lectura Secunda (Quaestiones in I Sententiarum Petri Lombardi)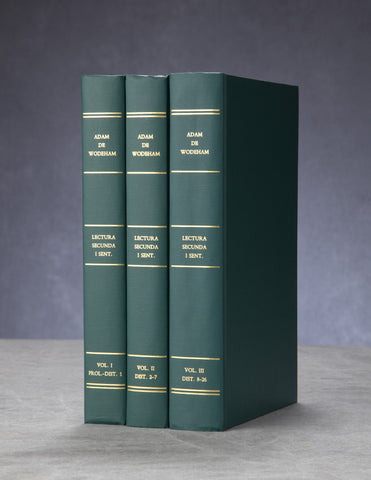 Lectura Secunda (Quaestiones in I Sententiarum Petri Lombardi)
Description:
TITLE TEMPORARILY UNAVAILABLE
Adam de Wodeham, a Franciscan philosopher and theologian, was the most brilliant disciple of William of Ockham, and a competent and reliable interpreter of the teaching of his master. The publication of his previously unedited work is a sequel and complement to the edition of William of Ockham's Opera Philosophica et Theologica.In the prologue Wodeham questions what evidence is accessible to us in the present life. The first three questions of Distinction 1 deal with the nature of science generally, and specifically with theology as a science. Only after a significant discussion concerning these questions does Wodeham proceed to fruition and the beatific vision, the subjects with which most authors begin Distinction 1. From the end of volume I, through the Distinctiones in volumes II and III, Wodeham follows the order of Peter Lombard's Sentences. This set includes:
Volume I - Prologus et distinctio 1 edited by Rega Wood.
Volume II - Distinctiones 2-7 edited by Gedeon Gal, OFM.
Volume III - Distinctiones 8-26 edited by Rega Wood.
Best Sellers