Peter of John Olivi's Commentary on the Acts of the Apostles; 30 Days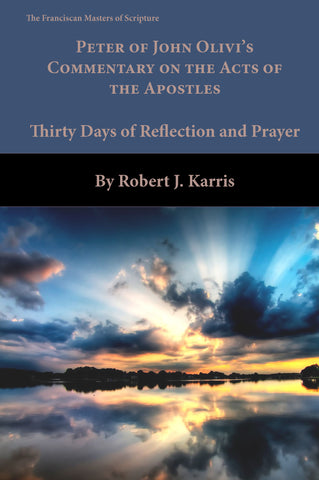 Peter of John Olivi's Commentary on the Acts of the Apostles; 30 Days of Reflection and Prayer
Description:
by Robert J. Karris
In the Middle Ages few authors produced commentaries on The Acts of the Apostles. Peter of John Olivi (1248-1298) authored an excellent exposition, basing himself on the previous work of Venerable Bede (672-735), Rabanus Maurus (780-856), and the Ordinary Gloss. His was a commentary mainly on the literal sense. From time to time he expounds on an allegorical meaning. His commentary stems from his lectures to Franciscan students and may date to ca. 1290.
Those who are acquainted with the previous three volumes in The Franciscan Masters of Scripture series will note that the translations from Peter of John Olivi's Commentary on Acts are longer. There are two reasons for this. The Acts of the Apostles is composed largely of narrative and speeches, and it takes a commentator some time to explain how the narrative and speeches/sermons flow and to delve into nutty problems.
The Roman Catholic Lectionary for Sundays and Weekdays was the primary influence in the selection of the thirty days of texts from The Acts of the Apostles. In creating his Reflections, Karris has rarely commented on Peter of John Olivi's exposition. Rather his goal was to focus the readers' attention on the flow of Luke's narrative and how his theological themes develop and intertwine.
Lord Jesus, open our eyes, our minds, our hearts through the words of Luke, to see, acknowledge, and love you as the first apostles did.
Best Sellers