Women of the Streets: Early Franciscan Women and their Mendicant Vocat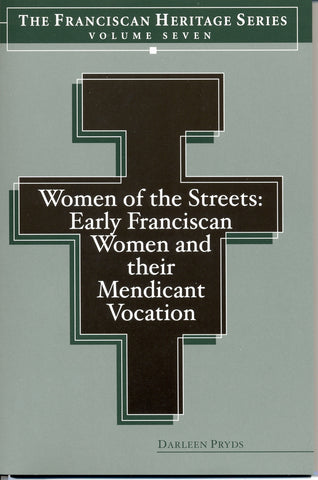 Women of the Streets: Early Franciscan Women and their Mendicant Vocation
Description:
Franciscan Heritage Series, Volume 7
Darleen Pryds
Since the role of women within the Franciscan tradition has usually been studied with respect to Clare and her sisters who followed in the footsteps of Francis primarily inside the cloister, a book about mendicant women outside the cloister is unique. But this short study goes further by positioning the texts about these early mendicant women within the history of the Franciscan intellectual tradition, a history usually written with respect to the theological, philosophical and pastoral achievements of men.

Rose of Viterbo, Angela of Foligno, Margaret of Cortona, and Sancia, Queen of Naples, were all born within the first century of the Franciscan Order. As women who pursued their religious vocation of voluntary poverty, itinerancy, and preaching outside of monastic walls - in the streets and in their homes - they could very well be called the first generation of mendicant women.

This is the seventh in a series intended to encompass topics which will connect the Franciscan Intellectual Tradition with today's language of our Christian Catholic Franciscan way of Gospel life. Previous volumes have presented an overview of the tradition, discussed dimensions of creation and Christian anthropology in Franciscan theology, and illustrated them through an iconographic tradition found in the Gospel of John. It is our hope that Women of the Streets: Early Franciscan Women and their Mendicant Vocation will add to our understanding of the Franciscan intellectual tradition, just as the sermons, commentaries, and treatises of Bonaventure, Scotus or Ockham, because these stories reveal how lay women gained a kind of religious education through their informal affiliations with the friars that in turn allowed them to attain significant roles of influence and leadership in their communities.
Best Sellers