Knowledge for Love: Franciscan Science as the Pursuit of Wisdom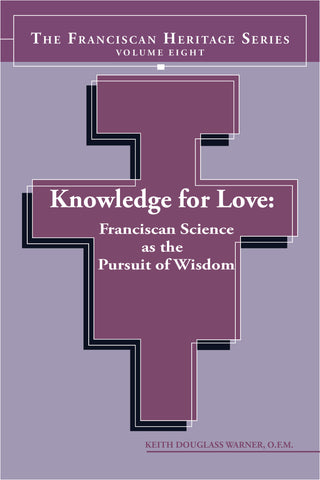 Knowledge for Love: Franciscan Science as the Pursuit of Wisdom
Description:
Franciscan Heritage Series, Volume 8
Keith Douglass Warner, OFM
This essay extends the retrieval of the Franciscan intellectual tradition into the sciences by presenting the vocation and work of three Franciscan scientists. Friar Bartholomew the Englishman taught his fellow Franciscans with the best available scientific knowledge to prepare them for preaching in foreign lands. Friar Roger Bacon conducted research into the natural world to advance scientific knowledge in service of the Church. Friar Bernardino de Sahagún investigated the life, worldview and culture of the Aztec peoples in New Spain (now Mexico) to interpret these for his fellow Franciscans. In the Franciscan tradition, learning about nature helps one grow in wisdom, and thus Franciscan science is knowledge for love. This essay argues that the retrieval of our Franciscan intellectual tradition could and should include the sciences.
This is the eighth in a series intended to encompass topics which will connect the Franciscan Intellectual Tradition with today's language of our Christian Catholic Franciscan way of Gospel Life. Previous volumes have presented an overview of the tradition, discussed dimensions of creation and Christian anthropology in Franciscan theology, and illustrated them through an iconographic tradition found in the Gospel of John. It is our hope that Women of the Streets: Early Franciscan Women and their Mendicant Vocation will add to our understanding of the Franciscan intellectual tradition, just as the sermons, commentaries, and treatises of Bonaventure, Scotus, or Ockham, because these stories reveal how lay women gained a kind of religious education through their informal affiliations with the friars that in turn allowed them to attain significant roles of influence and leadership in their communities.
Best Sellers