The Virtuous Economy: Reforms in the Franciscan Tradition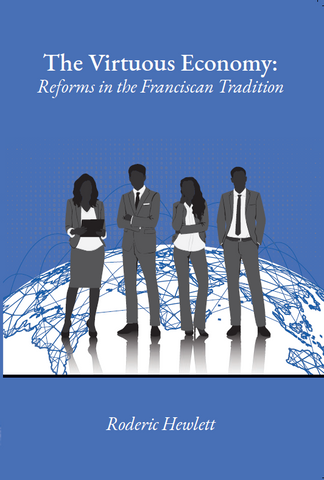 The Virtuous Economy: Reforms in the Franciscan Tradition
Description:
by Dr. Roderic Hewlett
Our 21st Century global economy is facing serious headwinds, personal and public debt are limiting historical options for policymakers while social and economic justice is sought after but seems a distant dream.  The Virtuous Economy: Reforms in the Franciscan Tradition is a response to the call for an economic third way, first introduced by Pope John Paul II as an approach to tap a dynamic market economy, mitigate the dangers of government control of our personal and economic life, and ensure human dignity is fostered.
Franciscan traditions, practices, and scholarship honed over the past eight-hundred years offer seven key themes that provide insights into how consumer-driven
reforms can change a market-based economy, one built to be just, sustainable,
effective, and an efficient third way. This virtuous economy would build upon
Pope Francis' call for fraternity, dignity of all of God's creation, and a society that
elevates all humans.
"Dr. Hewlett brings his expertise as an economist and his experience as a Secular Franciscan to bear on the basic challenges of our global economic system. In a genuine tour de force, Hewlett will challenge economists and theologians, business executives and religious leaders, and anyone facing the serious headwinds of economic change. He will offer practical examples of how Franciscan-inspired strategically virtuous organizations can transform the way we live and work."  - Fr. David B. Couturier, OFM. Cap.
The Virtuous Economy is not a blurry hope, but a crafted, market-based, and
economically sound approach to reforming our economy through the market itself.
This reform is charted through an accessible review of our current social and
economic problems, a historical context of how these problems arose, and how
lessons gleaned from the Franciscan Tradition blend with emerging economic
practices to achieve our Virtuous Economy.
Best Sellers